Latest Articles
May 13, 2014 • IPT News
On the front page of Sunday's New York Times was a hysterical article charging the New York Police Department with trampling Muslim civil rights by trying to recruit Muslims who had been arrested on other charges to be informants. The headline screamed "New York Police Recruit Muslims as Informants on Terrorism" and proceeded to "expose" the "profiling of Muslims" by the NYPD to serve as potential informants from within their communities. Reporter Joseph Goldstein interviewed people who had been questioned by police and found the exercise "coercive."

Continue to the full article | More articles
April 17, 2014 • IPT News
A federal court established a link between the Council on American Islamic Relations (CAIR) and the terrorist group Hamas, but that did not stop Chicago's ABC 7 joining Morgan Stanley and New York Life in co-sponsoring its Chicago chapter's March 15 banquet.
An FBI agent testified that CAIR was a Hamas front group in the 2008 Holy Land Foundation terrorist money-laundering trial. It was listed as an unindicted co-conspirator in the same case.
In a 2009 ruling, U.S. District Judge Jorge Solis wrote that the government's evidence delivered in the case creates "at least a prima facie (face value) case as to CAIR's involvement in a conspiracy to support Hamas."

Continue to the full article | More articles
March 26, 2014 • IPT News
Update: State Department Spokeswoman Marie Harf reacted to the IPT's story by posting on Twitter: "FALSE. I addressed on the record in briefing. Said is abhorrent and insulting to millions who died in the Holocaust."
Harf's statement comes five days after a reporter first asked about the Iranian leader's remarks. State Department officials did not respond to the IPT's multiple requests for comment on the matter before publishing the story. According to the State Department's transcript, Harf's comments came only after a reporter brought the issue back up. The transcript reads:

Continue to the full article | More articles
January 17, 2014 • IPT News
Newly released records confirm a 2012 Investigative Project on Terrorism (IPT) report that the State Department cleared the way for a visiting delegation of Muslim Brotherhood officials to enter the country without undergoing routine inspection by U.S. Customs and Border Protection agents.
The April 2012 visit came before the Muslim Brotherhood's candidate was elected Egypt's president, although the Brotherhood's Freedom and Justice Party (FJP) had won a plurality of seats in parliamentary elections. The expedited entry is known as a "port courtesy" normally reserved for high-ranking visiting government officials and dignitaries.

Continue to the full article | More articles
September 23, 2013 • TV Interview on Fox News Channel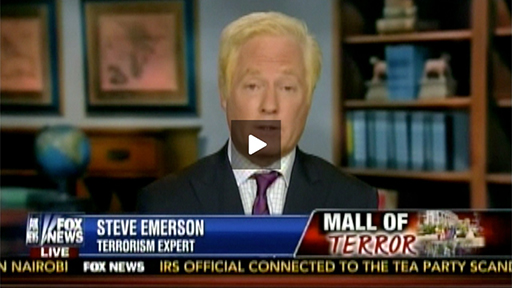 SEAN HANNITY: And welcome back to HANNITY. The intense standoff between Somali terrorists and Kenyan security forces continued for the third straight day today at the Westgate shopping mall in Nairobi, Kenya. Now, the horrific terrorist attack began Saturday when an estimate of 10 to 15 members of an al-Qaeda linked group Al-Shabaab entered the mall and open fire and set off grenades, killing at least 62 people, injuring close to 200 more. Now the terrorist moved through the mall asking shoppers whether they were Muslim or not, freeing only those that could prove they were in fact Muslim.

Continue to the full item | More media coverage
Books by Steven Emerson